Mid-Maine Lewiston HOG Chapter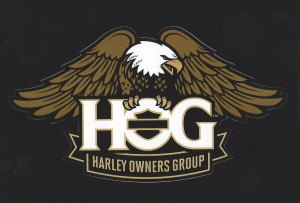 Welcome to the Mid-Maine Lewiston Hog Chapter

Meetings Held 1st Saturday Every Month at 9:00 am**.
You are invited to join us in our HOG Den at
L-A Harley-Davidson, 839 Main Street, Lewiston, ME 04240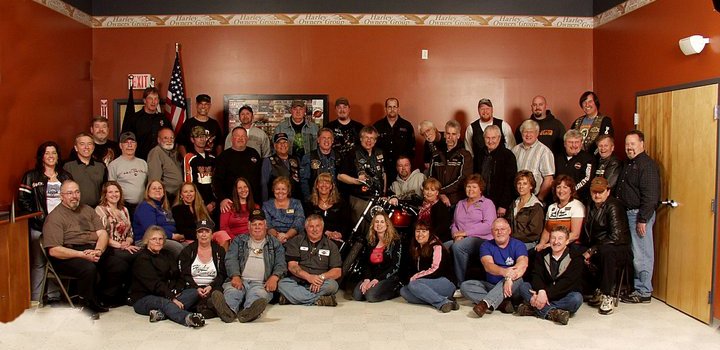 Mid-Maine Lewiston Hog Chapter!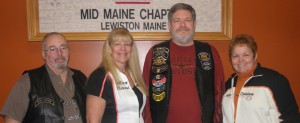 Chapter Officers
Left to Right : Joe Presti, Kathi Yergin, Donald Gabriel, Cindy Rogers
2014 Mid Maine HOG Chapter Officer's
Director
Kathi Yergin
207-577-8896
kril62@aol.com
Assistant Director
Cindy Rogers
207-841-9121
crogerssqueal@gmail.com
Treasurer
Joe Presti
207-377-3488
Secretary
Donald Gabriel
207-926-4490
dgabriel@maine.rr.com
Activities Coordinator
Jesse Poore
Susan Landon (Mentor)
L.O.H. Officer
Janis Tanguay
Membership Officer
Anita Maheux
Editor
Karen Schneider
Photographer
Greg Davis
Paul Walsh
Safety Officer
Walter Tarbox
Historian
Deb Rowe
Webmaster
Donald Gabriel
Head Road Captain
Brent Tanguay
Road Captains
 Marcel Charest
Lorrie Fernald
Ben Loft
Henry Maheux
Dennis Rogers
Jeff Rowe
Brent Tanguay
Janis Tanguay
Scott Tanguay
Walter Tarbox
Dennis Webb
Jerry Yergin
Kathi Yergin
Pig Pot
Ron Bilodeau
50/50
Ben Loft
Sunshine
** Please check Calendar to confirm meeting dates.